Monopod improvements
Home made Extra legs for a better stability
To have a good camera position stability (for long time exposure), his position should be locked in 3 axis. With monopod, only 1 axis is controlled !
A solution consist of adding 2 minor removable legs to the monopod. Then this one can be used as a tripod (3 axis locked), however with some limitations : Be close to a vertical plane (wall...) or subject near the floor (macro).


Against the wall
It could be a solution to take high height picture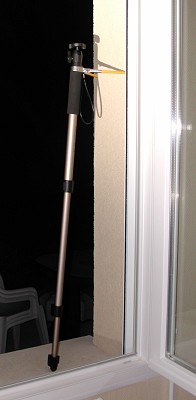 On an open window to shot outside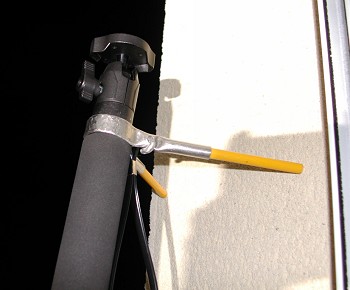 detail
Different results can be obtain in relation with the "2 extra legs" length
withn

no

extra legs

with

shortest

extra legs

with

longest

extra legs
It can be fully disassembled.
I haven't spent any money for this, I have just used some materials I already had.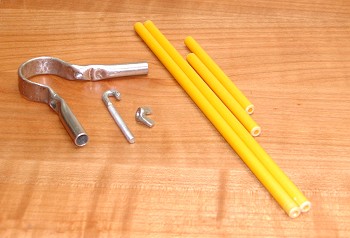 It is made from :
an inox tube (could be any other metalic material)
four segments of a composite tube (yellow tubes on the picture) from camping equipement (tent) spare part
a screw.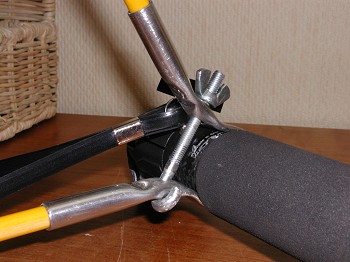 For commercial solution, see Manfrotto accessories (art 331)
Quick release plate for a coolpix 880
My actual digicam is a Nikon coolpix 880. On this kind of digicam, the screw at the bottom (to attach the camera to a tripod) is build in plastic material wich doesn't inspire me confidence.
Then i start thinking about a quick release plate, that could stay definitely on the camera and then prevent too much camera screw manipulation.
But 2 problems appears :
My monopod (velbon up43) is shipped with (from my point of view) a very good ball head, but it doesn't contains any quick release plate.
An eventual plate should be remove from the camera each time battery replacement would be necessary (both battery and screw locations at the bottom are close)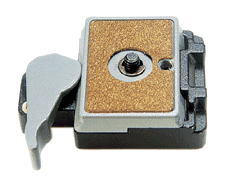 The first problem was simply solved after buying a Manfrotto "quick release plate adaptator" (art 323). This adaptator could be mounted on any monopod or tripod head. It contain both parts of a complete quick release plate system (one plate with the 1/4" male screw and the socket with the equivalent female screw to be mounted on actual head)
It was quite more difficult to find an answer to the second problem. A the end, i decided to clip the plate to remove metal in front of the camera battery location.
Bottom view of the camera
with shrinked plate mount on it.
The battery location can be seen on the right part.

(the camera shot itself with flash and a mirror set)

Final result with camera mounted on the Q/R plate
Conclusion
With all theses improvements my monopod has not lost his major characteristics (weight and volume), but it is really more stable, and more practical (quick release plate). Since i did it, no more cares about my camera plastic screw.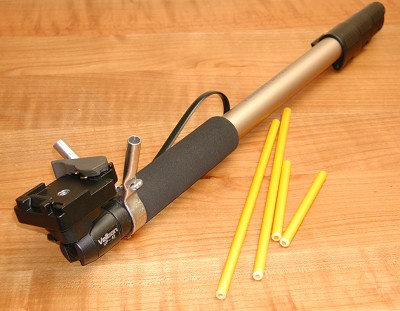 My monopod, with extra legs
and quick release plate
as it will be stored in my bag